HTW Celebrates 60 Years In Business
From H Hase and Son to The Hampshire Tile Warehouse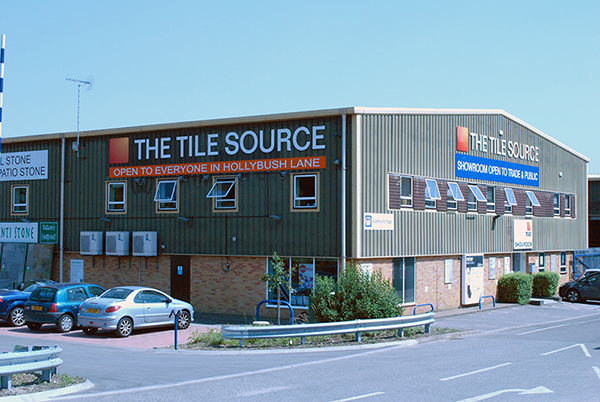 As reported in issue 97 of Tilezine – The Online Magazine For The Tiling Industry.
When Hugh Hase founded the tiling contracting business H Hase and Son in 1953, he could not have dreamed that 60 years later his business would have grown to become a thriving tiling and wet room supply company.
This was how Hampshire Tile Warehouse (HTW) began life. In 1954 the company name changed to Hase Son and Williamson, when Ernie Williamson joined, and later down the line became HTW, which to this day is headquartered in its traditional home of Aldershot. As the company expanded, new depots were opened in Southampton and then Brighton, with stores in Brentford, Hedge End, Winchester and Uckfield following later.
In the early days of the business, nearly all tiles were either 4¼ or 6 inches square, with an 8-inch tile being considered large! The core business in the beginning was for housing and industrial contracts, but during the 1970s tiles became an important part of home improvement and retail sales took off, particularly with the introduction of lower cost Spanish and Italian Tiles.
Reflecting on how far the company has come, Managing Director Julian Hase, who started off working for the business during his school holidays, mused, "Looking back I am amazed at how working life has changed. When I started we did not own a forklift and everything had to be 'hand balled' off lorries, including the dreaded 20 tonne of loose quarry tile! Since then everything has become mechanised and digitised."
The natural evolution of the company was to enter the world of online retailing, and in July 2007 Tile Fix Direct was established to sell tiling ancillaries to the trade online. Since then, Tile Fix has evolved into a specialist waterproofing and wet room national distributor and is now a major supplier of wet rooms in the UK. HTW's brands include local tile stores The Tile Source, Factory Tiles and The London Tile Co. as well as online-only Tile Fix Direct; this allows HTW to effectively serve trade and retail customer across the UK.
When asked about his favourite memory of the company, Hase replied, "My fondest memories are always for the people I have worked with and who have helped to create the company. Of particular note was Peter Morris, Aldershot's drive and store man for over forty years. Now retired and in his 70s, he is still full of life and will be doing a wing walk in a couple of week's time!"
Hase concluded, "On behalf of everyone at Hampshire Tile Warehouse I would like to thank all of our customers, past and present, for supporting the business and helping us to grow and evolve. We look forward to serving you for the next 60 years!"