Introducing the NEW Retromix Range
If you are looking for bold and dynamic patterned tiles, then look no further than our new Retromix range. The Retromix collection is full of fun and excitement with a wide selection of monochrome patterned wall & floor tiles. Taking inspiration from vintage style, Retromix allows you to create a contemporary look with a retro twist. Choose from classic black and white tiles or mix it up with a geometric design for an eye-catching graphic finish.
| | | |
| --- | --- | --- |
| Use the Retromix Cube tile to create visual illusions on your floors and walls. The optical element to this tile makes it perfect for both small and large places. | The Retromix Star pattern is where the traditional inspiration of this range meets and blends beautifully with modernity. Classic and contemporary, this tile is perfect for floors in kitchens, hallways or bathrooms to give your property that understated vintage aesthetic. | The Circle Medium tiles trick the eye with their repeating circular design, perfect for creating an impactful feature wall or floor. |
| The petal pattern creates a softer, but still striking, black and white geometric look. This eye-catching design is both edgy and simple, great for residential projects like kitchens, or in bars, restaurants and coffee shops. | This versatile design can be used to create a wide range of patterns from stripes and squares to exciting random arrangements. The patterned opportunities are endless with this seemingly simple tile. | A cool half grey half white square tile that is a mirror to the Retromix triangle black tile. Just like its mirror, this tile can be used to create a wide range of designs including squares, stripes and zig zags. Or why not pair it with the Retromix black triangle to add further depth and dimension to your designs? |
Plain black and white tiles are also available that can be used to create a border effect with a patterned tile or combined to create your very own pattern.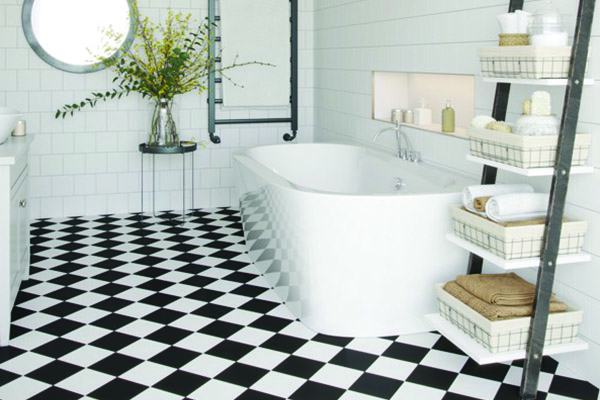 All of the Retromix tiles are made of strong and hard-wearing porcelain so they are perfect for high traffic areas such as hallways, as well as in stylish kitchens. Their slip resistant surface also makes them ideal for wet areas such as bathrooms, showers and wet rooms.
You can mix and match a range of black and white tiles to create a totally unique design. Retromix patterned tiles can also be used on walls to create a fun splashback or striking feature wall. The 150 x 150mm glazed porcelain tiles are well suited for both floor and wall use. Their fun adaptability makes the Retromix range perfect for any property type from homes to bars and restaurants – the sky is the limit with these tiles.
The Retromix range is also available for distribution – see Retromix.co.uk for more information.