New Product – Marmox Multibond
Marmox Multibond is a high bond strength adhesive and sealant, which is produced in the UK using new technology to create a 100% solvent free material. It can be applied to moist surfaces and once it is set it is fully water proof and extremely strong, whilst still having the elasticity to allow for some movement. It is compatible with the full range of Marmox products, as well as wood, stone, polystyrene, plaster, ceramics, masonry, plastics, metals, and even bitumen!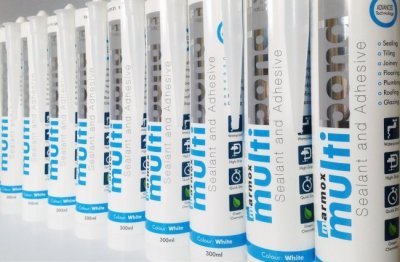 Not only does Marmox Multibond not stain stone or ceramic tiling, but it cannot discolour itself – meaning it will always stay bright white. And it can easily be washed off skin or clothing with only water. Use this new product as a replacement for silicone, acrylic and PU when sealing shower trays, baths, bathroom and kitchen fittings, and much more.
Marmox Multibond is now available at all HTW showrooms.