December Tile Source Trade Offers Now Available
It's hard to believe that we are now entering the final month of 2018 – in just a few weeks Christmas will be over & done with and we will be welcoming the start of the new year. But we've still got a month to go and until then we have some fantastic deals available in the meantime.
Why not treat yourself to some new tools this Christmas with our great prices on Sigma Series 3 Max manual tile cutters or pick up a RUBI 7 Piece Tungsten Carbide Drill Bit Set with carry case? Looking to stock up on adhesives for the new year? Check out our prices on best sellers Ardex X77 and BAL Rapid-Flex One. Keep your ears warm over the winter with an Orbry beanie hat for just £2.95.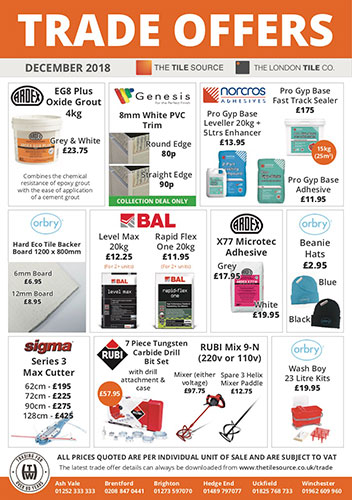 Don't forget to read the Trade Newsletter (it's printed on the reverse of the offers!) for the latest news on BAL Flexbone uncoupling matting, our new wood effect ranges and opening hours for Christmas & the New Year. Download a copy of the trade offers here or pick one up at any Tile Source trade counter.