External Porcelain Tiles and Brush In Grouts
Over the last few years 'brush in' grouts and jointing compounds have gained a lot of popularity when used with traditional stone and concrete slabs. Fast and easy to apply, they avoid the problems of picture framing associated with mortar pointing, but are they suitable for use with porcelain slabs?
Brush in grouts are generally air cured products that plug the joint. They do not stick to the side of the slabs and therefore require a decent depth and width of joint to maintain their integrity. Typically a joint depth of 25mm and a width of 6mm or over is required. However, porcelain slabs are typically 18-20mm deep (with some new ranges being developed of only 12-15mm depth), and are generally being fixed with joints of 3-4mm for a sleek and modern look. This makes them unsuitable for use with most brush in joints as they will be susceptible to breaking up or being washed out of the joint.
The alternative are purpose-made tiling grouts with polymer additives. These will work down to 2mm joint widths and also adhere to the sides of the tiles to make them resistant to even jet washing. Available from most tiling adhesive manufacturers in a range of colours they are the best solution to grouting external porcelain – get in touch with your nearest Trade Counter for more information.
External tile grouts are also suitable for use with the new PorcelQuick Adped system. If a brush in jointing compound is used with the Adped system it will simply fall through the joints, and as the joint is typically only 8-14mm deep after the application of the PorcelQuick Grout Backer Rod it will not adhere correctly to the porcelain tiles. Grout is the perfect option when used in conjunction with the Grout Backer Rod to hold it in place during the application and curing process. Three widths of Grout Backer Rod are available to fit joints from 3-10mm, allowing you to create a modern finish.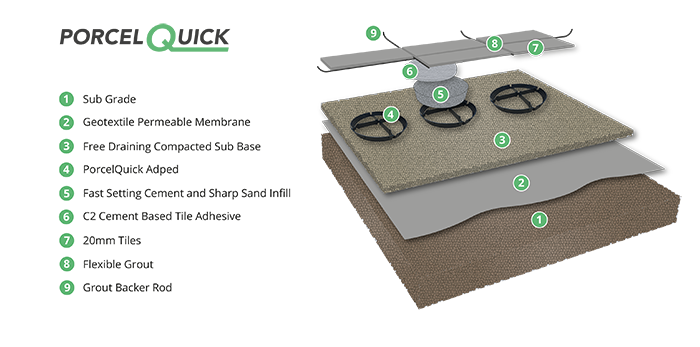 Find out more about the PorcelQuick Adped system at PorcelQuick.com.