HTW Now Stocking Kerakoll BioGel Adhesives
Kerakoll BioGel adhesives are now available at all HTW outlets, including The London Tile Co. and The Tile Source trade counters. These innovative adhesives behave like gel; once mixed they do not thicken or shrink and the consistency ensures the entire tile is covered. Kerakoll developed these adhesives at their eco-friendly advanced research and development laboratories and even created their own 'GreenBuilding' rating system "to give the construction industry a new benchmark for the design and construction of eco-friendly buildings using green products that help to make houses and the environment healthier and safer for humans by reducing the impact they have when they are used or destroyed."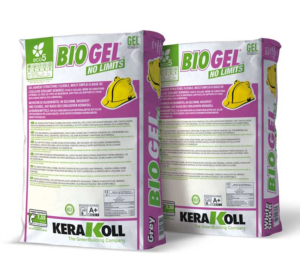 Kerakoll BioGel No Limits is a cement based adhesive that acts like a gel. It can be used on almost any substrate to fix any tile material, internally and externally as well as in wet areas. BioGel No Limits is suitable for use on domestic, commercial and industrial projects. It is available in grey or white in 25kg bags, ask at your nearest trade counter for pricing.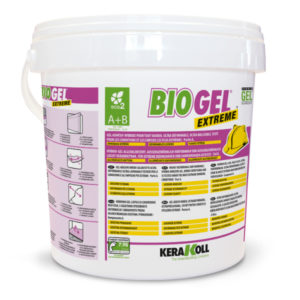 Kerakoll BioGel Extreme is a hybrid-gel adhesive tested and developed for use in extreme conditions. It is a 2-part adhesive that comes in a 10kg tub. BioGel Extreme bonds quickly with an adhesive strength that is 5 times super to a standard C2 cement based adhesive. It's also 10 times more deformable and has extreme fluidity. Check prices and availability at your local HTW trade counter.
All three Kerakoll BioGel adhesives are reduced this month as part of our March Trade Offers so now is the perfect time to try them out.