January Tile Source Trade Offers Now Available
Happy New Year! 2018 was a fantastic year for us; we launched lots of new tile ranges, hosted bowling nights with Schlüter & Norcros, started stocking Kerakoll products and had Breakfast & Booze (separately) with BAL. This year we hope to continue to bring you the best tiling products and help you get the job done.
To get the new year off to a good start we've got great prices on a range of tiling essentials incluidng Norcros grout & tanking kits, Ardex Arditex NA leveller and X7 adhesive, Kerakoll No Limits adhesive and Marmox Multiboard tile backer boards. We're also launching the two new uncoupling mats from BAL with special low introductory prices for January.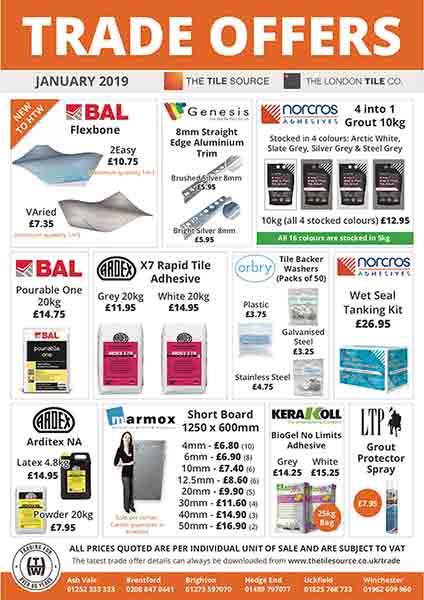 Don't forget to flip your Trade Offers over (or scroll down if you're reading online) to read the latest Trade Newsletter; this month there's information about our new brochure & price list, DITRA-DUO matting and new Marmox Thermoblock.