March Tile Source Trade Offers Now Available
After a month of snowfall and heat-waves it seems that the weather is back to it's usual dreary self today as March starts. With Spring on the way many customers are thinking about giving their home a makeover or maybe even larger building projects so it's a great time for tilers! This month we've got some great offers to make the job a little bit easier for you.
If you're looking to stock up on adhesives you can grab great deals on BAL Pourable One & White Star or a range of Norcros S1 adhesives. Got a problematic floor to tile? Try out BAL's new Flexbone 2Easy or VAried decoupling matting systems for less this month. We've also got fantastic prices on a range of essentials including RUBI porcelain angle grinder blades, Orbry expansion dowels for tile backer boards, Genesis trims and LTP Rust Stain Remover.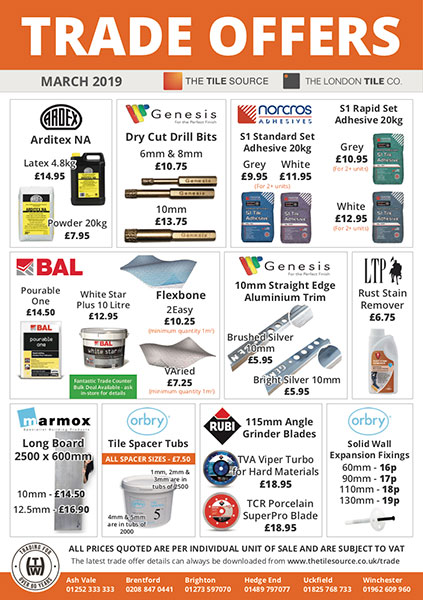 Pop into your local Tile Source branch or download a copy of the March Trade Offers online now. Don't forget to read this month's Trade Newsletter for more information on our new simplified trade discounts and upcoming BAL breakfast mornings.