March Trade Offers Now Available
This month we're launching two new product ranges at HTW; Kerakoll BioGel adhesives and Ardex EG8 Plus epoxide tile grout & adhesive. These are available at all HTW showrooms so visit your nearest one for more information. There's also great deals on BAL Level Max, Genesis 8mm trim, Orbry Long Board and Norcros Wet Seal tanking kits. Pick up a copy of our March Trade Offers at any Tile Source or London Tile trade counter, or download a copy online now.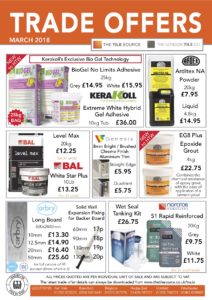 Don't forget to check out the Trade Newsletter this month for more information about our new Kerakoll products, external porcelain and why you should make the switch to DITRA-DUO matting.