Switch to DEVI & Claim Your Free DEVIreg Touch Thermostat
Do you regularly install electric underfloor heating system? If you are not currently use DEVI products, they have launched a brand new incentive that might just tempt you. Aimed at new DEVI customers, this promotion allows you to receive a completely free DEVIreg Touch thermostat when you buy a 2m2 or more DEVImat.
Not only will you get a free thermostat, you also have the opportunity to be entered into a prize draw to win a VIP tour of the DEVI factory followed by a race track driving experience at the Palmer Sport Centre at Bedford Autodrome.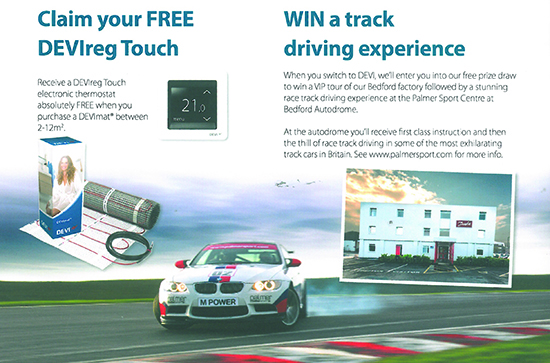 DEVI Underfloor Heating Systems
DEVImat – self adhesive electric underfloor heating mats suitable for new builds and renovation projects.
DEVIlink – wireless control of your underfloor heating throughout the home, providing maximum control and efficiency.
DEVIreg Touch – stylish and efficient touchscreen thermostat for use with DEVImat underfloor heating.
DEVIreg Smart – wireless thermostat that can be controlled via your smartphone from anywhere in the world.
To switch to DEVI underfloor heating and claim your free thermostat get in touch with Damon at DEVI on 07917 342 536 or speak to your local HTW branch.